SKU:
FCLAW_S_60MM
Availability:
In Stock
Price:
(Per Set) $21.25
These claws are clear casting epoxy resin made, which allow for flexibility to last for years of use and clarity as well as a smooth surface.
You can choose from 3 styles as the base style, color, as well as finish. If you have a specific style you would like to achieve, please mention your specifics in the User Custom Instructions text box above. Here are the current list of styles to choose from:
Solid
Diffused (semi-transparent)
Transparent
*Claw Color may very with final set but should be very close to what you have selected.
Dimension: 60mm (2 3/8") circumference around widest part.
Item is available to ship in 5 to 14 days, depending on availability.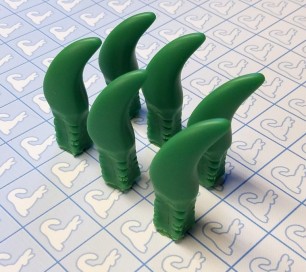 Resin Claws - Feet 60MM - Pre-made (Green x6)
$8.00